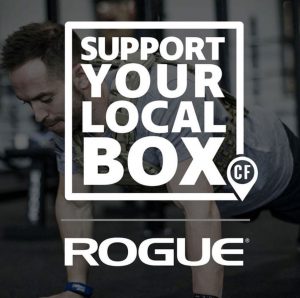 Sign up for CrossFit's comp to help support your local gym. Rouge will be matching any funds donated.
The Support Your Local Box Fundraiser is an online event held in support of the Crossfit community. Three workouts will be released over three weeks. These will use classic @CrossFit programming designed to be done at home with little or no equipment. Each workout will have a modified version that can be performed with household items by anyone, regardless of age or ability. For affiliates and their loyal members, this is a chance to share a few workouts with friends and loved ones who could benefit from @CrossFittraining, especially during this time.
Registration is free, but 100% of financial contributions will be given to CrossFit affiliates. During registration, you can select the affiliate under which your name will appear, and it will receive the full amount of any contribution you make. You can use the CrossFit Games Open leaderboard and apps to check in on others from your designated affiliate and see who has posted scores, or create your own custom leaderboard for just your family, friends, or neighborhood by using a leaderboard hashtag.
@RogueFitness has commended the amazing work of CrossFit affiliates in the face of gym closures and social distancing requirements. They will donate up to US$100,000 to the Support Your Local Box Fundraiser by matching individual contributions. If you use the hashtag #ryourogue once you have registered, the affiliate you select will receive double the amount you gave. Rogue's contributions will occur on a first-come, first-served basis until $100,000 has been distributed. There are no other requirements.

Register through games.crossfit.com.
Repost @crossfitgames –
#SupportYourLocalBox #CrossFitCommunity #Fitness #Training #Workout #CrossFitAtHome #CrossFitTraining #StrongerTogether